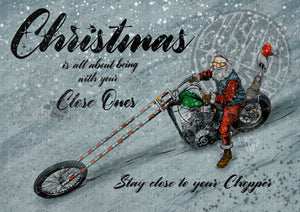 Buster Wise
Buster Wise XMAS Gift Card.
Sale price Price €10.00 Regular price Unit price / per
Tax included.
If you're looking for a gift for a chopper freak friend here's a Gift Card that you can print out on your own. 
Here is how it works:
you need to add the gift card to the cart and pay for it. Next we will email the gift card with a unique code to your email address. We will also email you the "Christmas is all about being with your close ones" print that you can print out on your own and include in the printed out version of the gift card if you want to physically give the gift card to the person you're buying the gift card for.
The gift card is not exchangeable for money. The gift card expires in 3 months from the date of the purchase. The gift card can be used multiple times until it's all cashed.
Happy Holidays🎄